Scott Peterson Motors donates $1,000 Cash Prize to Butte County Child Abuse Prevention Fund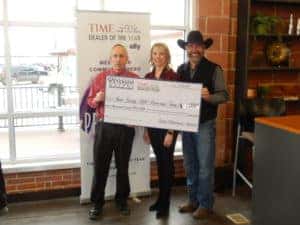 KNBN
A car dealership in Belle Fourche is helping children by donating its thousand dollar prize.
Scott Peterson Motors received Time Dealer of the Year and was presented with a cash prize. That check was given directly Butte County Child Abuse Prevention Fund. The dealership decided to put the money towards a charitable cause that directly affects the community it resides in.
The child abuse fund helps children from just a few months old up to the age of 18.
The president of the fund, Brian Aspen, expressed his gratitude and explained what the money is going towards.
"Some of the things we've purchased are diapers, gas for medical transportation appointments, and clothes for the beginning of school for kids who don't have any clothes," said Aspen.
Hundreds of children will be helped through this donation from Scott Peterson Motors.