2017 South Dakota Retailer of the Year Award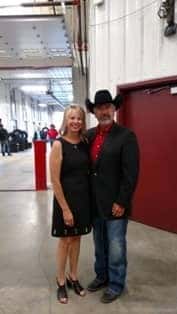 The South Dakota Retailers Association announced that Scott and Susan Peterson of Scott Peterson Motors in Belle Fourche and Sturgis will be honored with the 2017 South Dakota Retailer of the Year Award.
The business is recognized for commitment to customer service and contributions to the community.
The award will be officially presented at SDRA's annual Awards Banquet in Pierre on Monday, Jan. 9. The event will be attended by state legislators and retailers from throughout the state.
The evening will include a social hour and silent auction at 6 p.m. CST, followed by the awards Banquet at 7 p.m. Reservations may be made by calling SDRA at 800-658-5545. The Retailer of the Year Award has been presented annually since 1982 by SDRA, a nearly 4,000 member statewide business organization.
In 2014, the Petersons accepted the Small Business of the Year award from Black Hills Community Economic Development.
Scott Peterson Motors has locations in both Sturgis and Belle Fourche.
Susan Peterson said in 2014 that their business is about cars, but also about people. The couple has been active in community service projects in Belle Fourche and Sturgis including most recently their annual food drive which brought in nearly $16,000.
Inside the Scott Peterson Motors new car showroom are posters that declare the dealership goal of "Customers for Life," and in the shop, the technicians work under a banner that proclaims, "Treat this car like it's your mother's."
The dealership also is a leader in overall community service. It's a wide range of support that takes in projects to fill the local food pantry and raises money for school programs and scholarships.
There's a long list of community involvement projects for the dealership as a whole and for staff members as individuals.
"We feel lucky to be part of this community, excited for its growth and proud of its heritage," Scott said in 2013. "Any good will that we can give back is only because of the good will of the community we are part of."