2017 South Dakota Retailer of the Year Award Celebration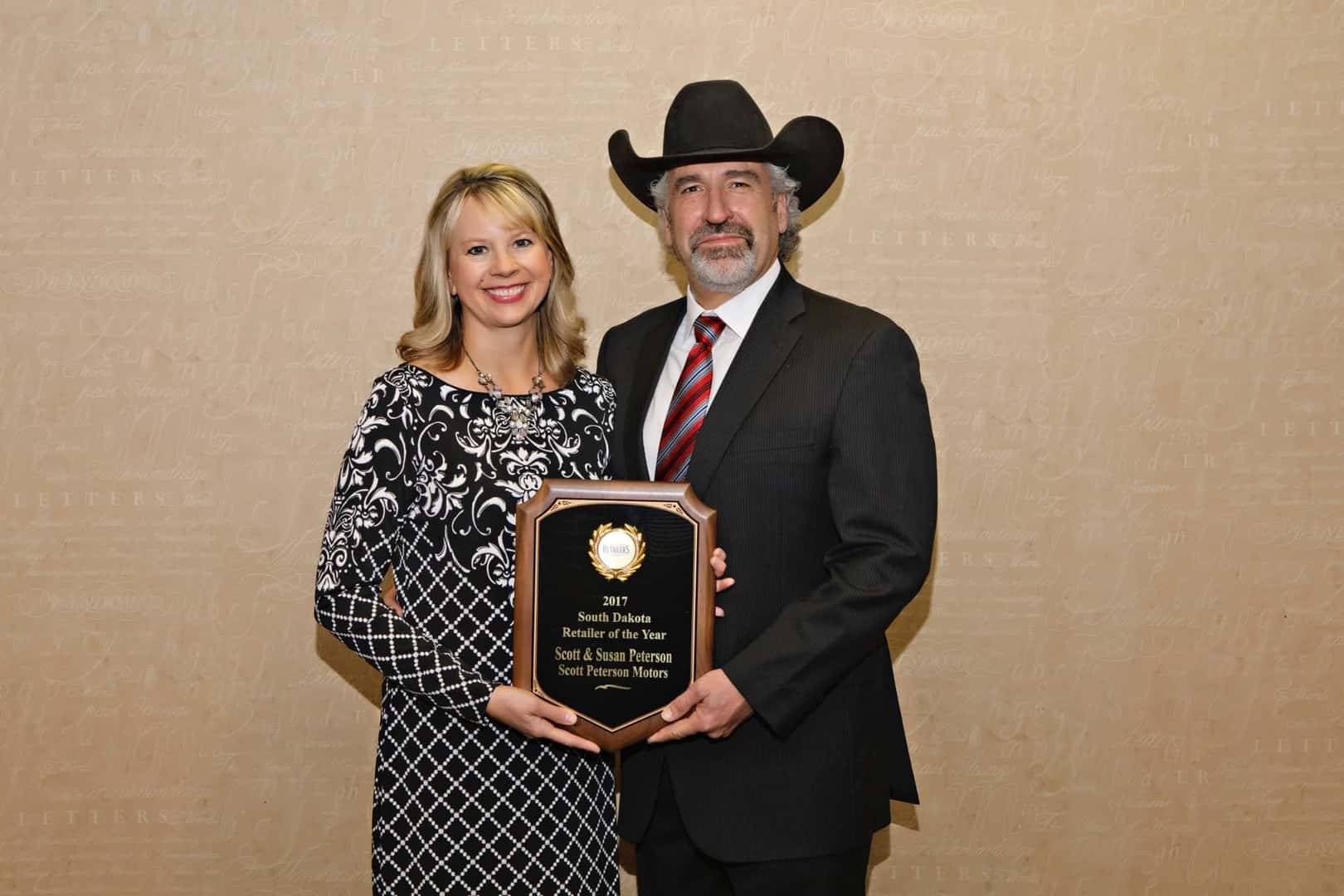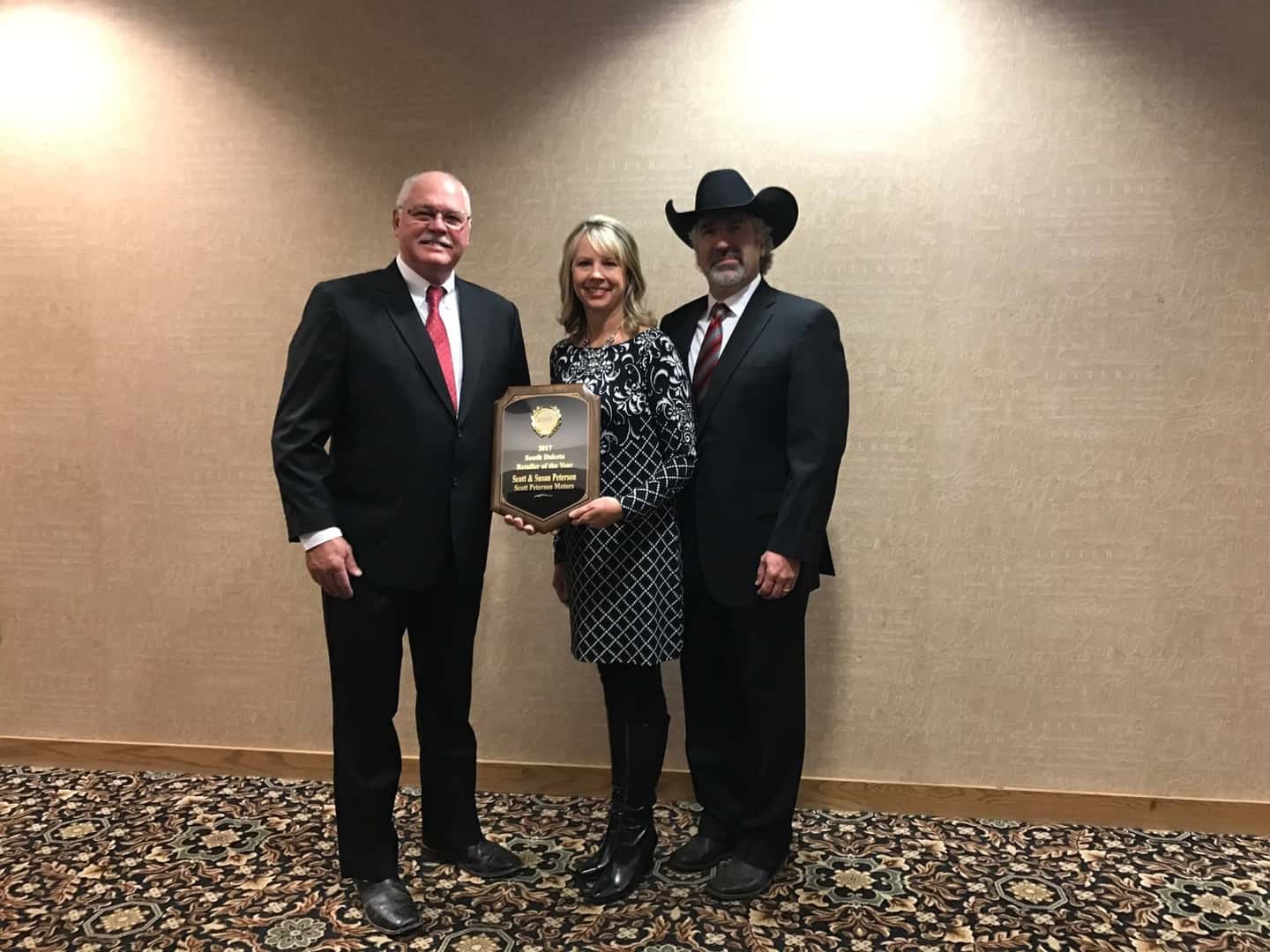 Scott and Susan with Senator and SDRA President Gary Cammack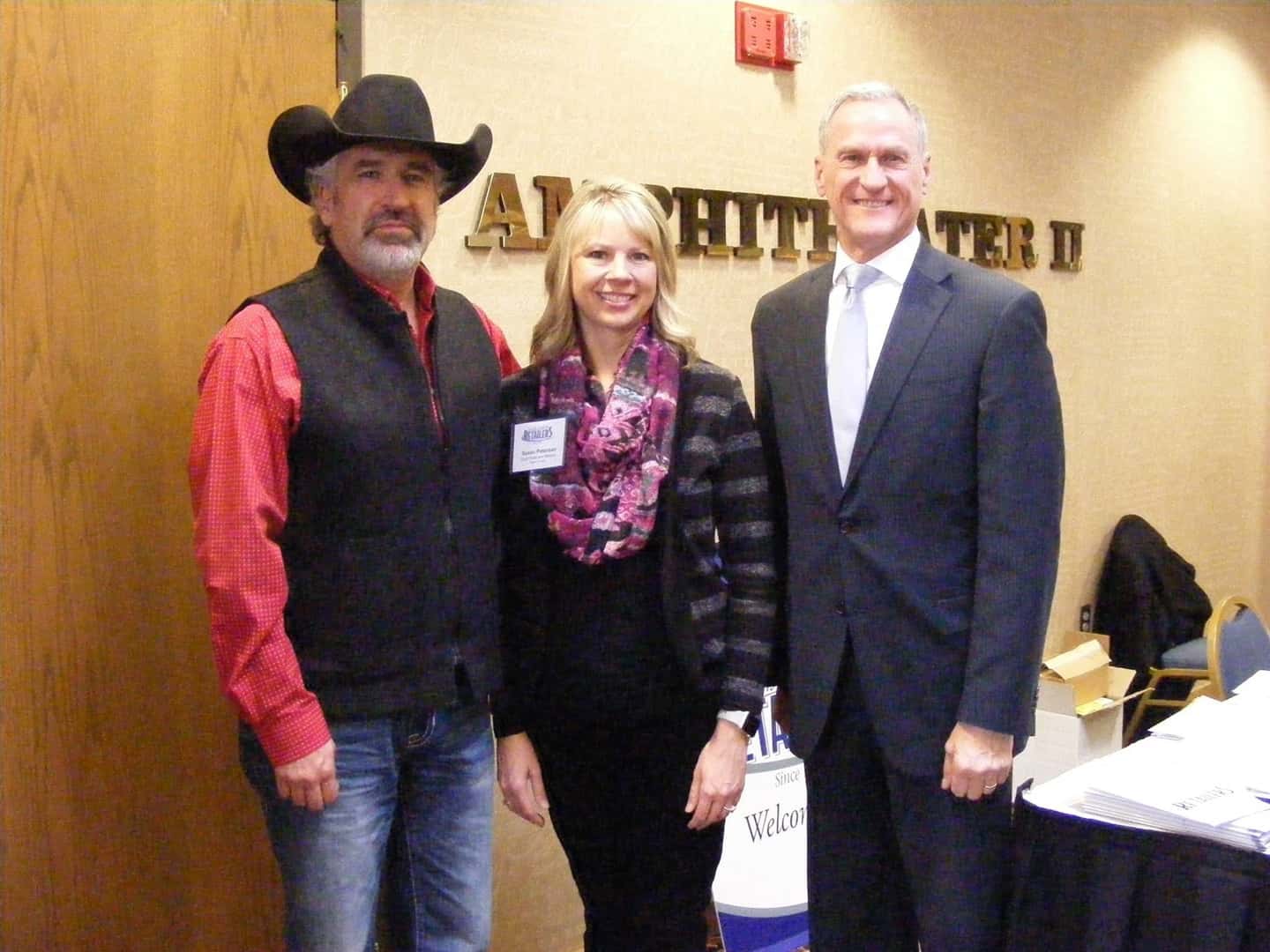 Scott, Susan, Gov. Dennis Daugaard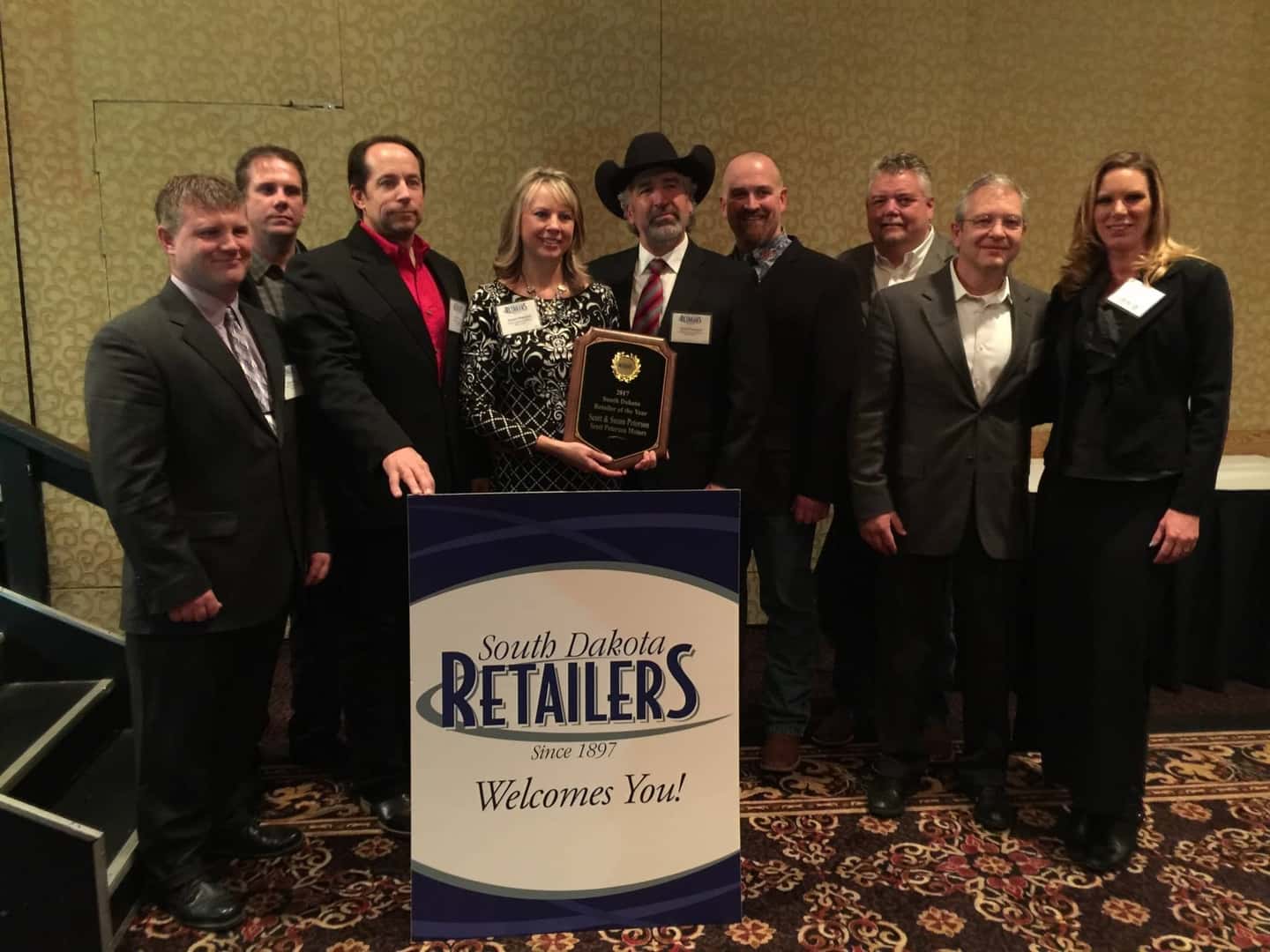 Scott Peterson Motors Crew
A couple who strongly believes in empowering their employees and giving back to their community have been named the recipients of the 2017 South Dakota Retailer of the Year Award.
Scott and Susan Peterson, owners of Scott Peterson Motors in Belle Fourche and Sturgis, were honored at the South Dakota Retailers Association's annual Awards Banquet in Pierre on January 9. The event was attended by state legislators, constitutional officers, and retailers from throughout the state. (Pictured at right: 2017 SDRA Board President Gary Cammack, left, with Susan and Scott Peterson.)
The Petersons were chosen for the award by a committee of retailers in recognition of commitment to running an excellent business, and outstanding service to their community.
Scott Peterson Motors is the first business from Belle Fourche to win the award and only the second from Sturgis.
After graduating from high school in Revillo, South Dakota, Scott and Susan Peterson moved to the Black Hills to attend college at Black Hills State University, where today, Susan serves on the Yellow Jacket Foundation Board. They then started a used car lot in Belle Fourche in 1988. Three years later, they purchased an existing new car business in Belle Fourche. They celebrated 25 years in that business in September. They have made major renovations and additions to the Belle Fourche business in the last three years, including adding a 25,000 square foot shop with 24 bays for vehicles, and they are currently in the final stage of remodeling their show room.
At the same time, they have expanded the business. In July of 2013, they purchased a dealership in Sturgis. They faced a major setback, however, when the roof caved in during the Atlas Blizzard in October of 2013. They not only decided to keep that business going, but they relocated and built a brand new facility. They always strive to do better. Just because something works today, they say, doesn't mean that's the way you should do it forever.
They were nominated for the award by customers, employees and business colleagues, who said the Petersons run their business with integrity and honesty, and truly care about their employees, their customers, and their community.
Their motto is: "We want customers for life."
"They tell their employees that one hundred percent of the time, one hundred percent of their customers must have an experience that will bring them back," SDRA Board President Gary Cammack of Cammack Ranch Supply in Union Center said when presenting the award. "To meet that goal, they empower their employees to make decisions about how best to take care of the customers. It may cost more to make a customer happy, but if that person becomes a customer for life, they figure it was money well spent."
People who nominated the Petersons for the award commended them for treating their employees with respect. They have about seventy employees, many of them long-time members of the staff. Over 70 percent have been with the business 10 years or more, and about 12 percent of the staff have been with them from the start.
One person who nominated them for the award said the Petersons credit their employees for the success of their business, and that was reflected in their remarks when they accepted the award.
"Over the years, we've grown from a mom and pop shop and one employee to seventy employees," Susan Peterson noted. "Our staff are the best in the business. We're very proud of all of them and all that they do for the Sturgis and Belle Fourche communities. They go above and beyond every day, and we couldn't operate without them."
"Without our leadership team and everybody underneath, we wouldn't be standing here today," Scott Peterson added.
Presenting the award, Cammack said the Petersons believe that for the community to be successful, they need to give back, and they do it in meaningful ways. They coordinate an annual food drive for the local food pantry. In the last six years, they have given over $100,000 and 14 tons of food. They sponsor a Crush Cancer drive that has resulted in over $100,000 in donations to local cancer charities over the last ten years. They've been responsible for providing nearly $100,000 in funding to other local charities and fundraisers in the last four years.
In addition, they're active in many organizations including the Belle Fourche Chamber of Commerce, the Belle Fourche Development Corporation, the Chrysler Dealer Council, Dakota Territory Buffalo Association, National Buffalo Association, River Walk bike and walking path project, Belle Fourche Community Center board, their church and Purple Pride, a group that supports athletics in the Belle Fourche school. Scott Peterson also serves on the Governor's Workforce Development Council and the South Dakota Automobile Dealers Board.
Their employees are also encouraged to give back to the community, and they do it enthusiastically.
The Petersons are modest about all those contributions to their community. It's just what you do, they said.
"We've been very blessed with opportunities and try to give back these opportunities given to us by our parents, kids, staff, bank, schools, church and communities," Scott Peterson stated when accepting the award. "And so we try to give someone else an opportunity to help with the education, help them fight cancer, help them put food on their table. Helping others is the best part of our business. We are very proud to be South Dakota citizens and business owners."
Cammack noted that, when asked what advice he'd give people just starting out in business, Scott Peterson said three things: Work hard, work honest, and treat people the way you want to be treated, and if you do that, things work out.
"They view the future with optimism for themselves, their community and the state," Cammack noted. "The Petersons say you can still live the American Dream in South Dakota and that's what they're doing. They truly do represent the best in retailing, and it's a pleasure to present them with this award."
The South Dakota Retailer of the Year Award has been presented annually since 1982 by the South Dakota Retailers Association.
About The South Dakota Retailers Association
The South Dakota Retailers Association is a voluntary organization of retail businesses that have joined together for the purpose of promoting issues and opportunities for South Dakota's retail industry. SDRA has served South Dakota's retail business interests since 1897 and serves nearly 4,000 members, making it the largest business trade association in our state and one of the largest state retail associations in the country. To learn more, please visit https://www.sdra.org or find us on Facebook and Twitter.