2017 South Dakota Franchised Dealer of the Year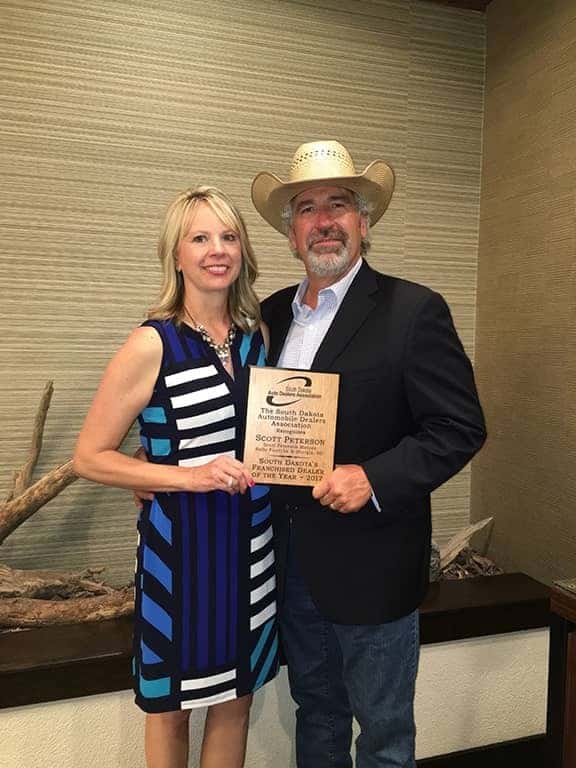 PRESS RELEASE
South Dakota Automobile Dealers Association
3801 S Kiwanis Avenue (57105)
PO Box 89008
Sioux Falls, SD 57109-9008
Phone: (605) 336-2616
Fax: (605) 334-1938
RAPID CITY, SD – On Thursday, June 8th, Scott Peterson, Scott Peterson Motors, Belle Fourche and Sturgis, SD, was recognized as the 2017 South Dakota Franchised Dealer of the Year. This is quite an honor, as nominations are made by his fellow franchised dealers throughout South Dakota.
The South Dakota Franchised Dealers of the Year Award is handed out annually at the South Dakota Automobile Dealers Association Convention. This year's event was held at the Rushmore Plaza Holiday Inn, Rapid City, SD on June 7, 8 and 9, 2017.
Scott will celebrate his 26th year as a franchised car dealer this September. He has accomplished many things. As a member of the South Dakota Auto Dealers Association (SDADA) Scott has served on both the Board of Directors and the Executive Board of Directors. He was the Chairman of SDADA from 2013-2014.
Scott also serves on the following boards and committees: Belle Fourche Area Community Center, Belle Fourche Economic Development Committee, Purple Pride, Dakota Territory Buffalo Association and the National Buffalo Association. He was appointed by Governor Daugaard to serve on both the South Dakota Work Force Development Council and the South Dakota Board of Technical Education.
Through the years Scott has earned the following awards: Ford President's Award (multiple times), Ford Elite Award (multiple times), Chrysler's Elite Dealer Award (multiple times), South Dakota Retailer of the Year in 2017, SDADA Chairman Award in 2016, Sturgis Retail Business of the Year in 2015, South Dakota Retailers Distinguished Service Award in 2014, Black Hills Community Economic Development Small Business of the Year in 2014, Belle Fourche Ag Business Person of the Year in 2010 and Belle Fourche Employer of the Year in 2010.
We congratulate Scott Peterson for being nominated as the 2017 South Dakota Franchised Dealer of the Year.